Description
Detail Specification
Reviews
Details
Promo : FREE Predator Headset Galea 300 (sampai 30 Juni 2019)
ACER Predator 15 PH315 - 51 - 737S | HELIOS 300 | WIN 10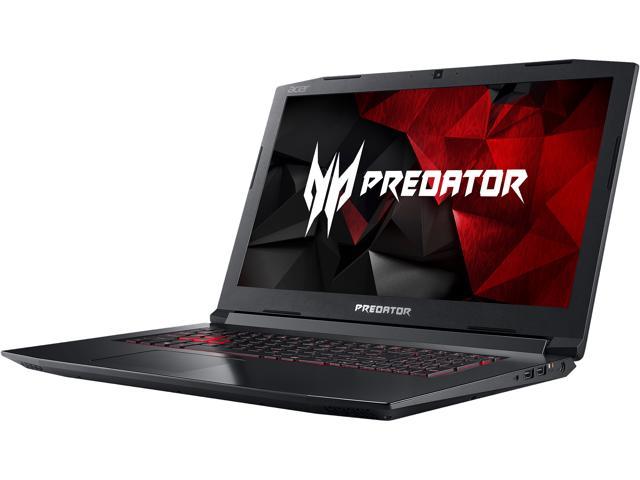 Aggresive Gaming Design
Dengan desain futuristiknya yang tipis, Predator Helios 300, akn membantu anda untuk mengendalikan segala. Iron backlit keyboard memastikan gamer selalu strike saat gameplay dan menyediakan kemampuan hardcore dalam look and feel the game.
Newest Intel Generation Processors
Generasi Intel® 7 CoreTM processor (H series) menjadikan Predator Helios 300 sebagai platform paling ideal untuk gaming. Provide ultra performance dengan full hardware terbaru. Overclocked NVIDIA® GeForce® GTX 1060* and DDR4 memory. Dengan pusat kendali PredatorSense, kartu grafis bisa dioverclock untuk melepaskan potensinya mengklik tiga mode yang berbeda.
Predator Sense
Hub perangkat lunak PredatorSense memungkinkan pengguna untuk mengontrol keseluruhan pengalaman gaming dari satu kendali pusat.
Control
Preloaded PredatorSense software memungkinkan pengguna untuk mengontrol keseluruhan gamepengalaman dari satu antarmuka pusat, termasuk suhu CPU dan kipas.
Design
The edgy red chassis and iron red backlit keyboard memberikan tampilan hardcore dalam look and feel design. Menampilkan kejernihan kristal dengan FHD IPS layar. Pengalaman audio immersive dengan Dolby AudioTM Premium dan Acer TrueHarmony ™.
Connectivity
Fast wireless 2x2 802.11 ac menyediakan konektivitas tanpa batas Semua yang penting port termasuk HDMI 2.0 dan USB3.1 Tipe-C.
Cooling
Dual fan system dan fitur AeroBlade Kipas 3D * dengan pisau ultra tipis (0.1mm) boot up sistem termal untuk kelancaran gameplay.
ACER Predator 15 PH315 - 51 HELIOS 300 | i7-8750H | GTX1060 6GB | RAM 2X8GB | 1TB+SSD 256GB | WIN 10
Display : 15.6" FHD LED IPS
Processor : Intel® Core™ i7-8750H processor
Memory : 2X8 GB Dual-channel DDR4
Hard Drive : 256 GB M.2 SSD + 1 TB
Graphics : NVIDIA® GeForce® GTX 1060 with 6 GB of GDDR5
Optical Drive : N/A
Operating System : Windows 10 Home
Camera : HD webcam with 1280 x 720 resolution and 720p HD audio/video recording, Super high dynamic range imaging (SHDR)
Audio :

Two built-in digital microphones
Two built-in stereo speakers
Networking :

Intel® Dual Band Wireless-AC, 802.11ac/a/b/g/n wireless LAN with Acer Nplify™
2x2 MIMO technology 802.11ac/a/b/g/n/ac wireless LAN with Acer Nplify™
Bluetooth® 4.0 LAN  Gigabit Ethernet
Keyboard : : 103-/104-/107-key, Acer FineTip keyboard with independent standard numeric keypad, international language support
Slots/Interface :
1x

USB 3.1, Type-C Gen 2: Thunderbolt™ 3 port

1x USB 3.0 with power-off charging

3x USB 3.0

1x Display Port v1.3(support G-SYNC)

1x HDMI (v2.0, support 4K2K output)

1x Mic-in / 1x Headphone-out
Battery : 48 Wh 3220 mAh 15.2 180W V 4-cell Li-ion battery
System Dimensions : 390 (W) x 266 (D) x 26.75 (H) mm (15.35 x 10.47 x 1.05 inches)
Weight : 2.7 kg (5.95 lbs.) with 4-cell battery pack (SSD+HDD)
Warranty : 2 Years Warranty
Bonus : Backpack + Mouse